Shira Route 7 Days
US$1845/Person
Day 1: Shira One Camp (Full board)
After breakfast at your hotel in Moshi or Arusha, we drive approximately 3 hours through the rural countryside to the Londrossi Gate. For the necessary park registration formalities at the Londorossi National Park gate, we drive a short distance on a steep track through farmland and plantations to the starting of Shira Route. We start our ascent along the shrub forests the trail climbs steadily with wide views of Kibo Icefield to reach the rim of the Shira Plateau.
Londrossi Gate to Shira One Camp (3550 m): 4-5 hours walking.
Day 2: Shira Hut (Full board)
Today we follow an easy path to the summit of Shira Cathedral before reaching the next camp at Shira Hut. As this camp is quite exposed, it can be substantially colder than the previous night, with temperatures dropping to well below freezing.
Shira Camp One to Shira Hut (3,840 m): 4-5 hours walking.
Day 3: Barranco Valley (Full Board)
Today we walk on a gentle ascend and panoramic views. We traverse the southwest side of Kilimanjaro, passing underneath the Lava Tower and the final section of the Western Breach and after hot lunch the bottom of the Lava Tower (4,600 m.) we descend to the bottom of the Great Barranco valley (3,900 m.).
Moir Hut to Barranco valley (3,900 m.): 5-7 hours walking.
Day 4: Karanga Camp (Full Board)
A steep climb up the eastern wall leads us just below the Heim Glacier, where we may have some spectacular views of Kilimanjaro. We then take a steep exit up the Great Barranco Wall, which divides us from the southeastern slopes of Kibo, the trail continues down into the alpine desert of the Karanga Valley, finally we have a steep climb up to Karanga Camp
Barranco Valley to Karanga camp (4,000 m): 4-5 hours walking.
Day 5: Barafu Camp (Full Board)
Today we take the Traverse Route that takes up the Barafu Ridge, we walk up quite slowly to the final camp before your last ascent day to the summit. The remainder of the day is spent relaxing in preparation for the final ascent before a very early night.
Karanga Camp to Barafu Camp (4,600 m): 3-4 hours walking.
Day 6: Summit to Mweka Camp (Full Board)
Wake up before midnight in the cover of darkness. We begin a steep climb over loose volcanic scree has some well-graded zig-zags and a slow but steady pace will take us to rim of the main crater, Stella Point, at 5,735m. We will rest there for few minutes to enjoy the sunrise over Mawenzi. Those who are still feeling good can continue slowly to make the two hour round trip from here along the crater rim to main peak (5,895 m), which is the highest point in Africa. After a few minutes to appreciate your accomplishment we descend to Barafu is amazingly fast, and we stop at Barafu Camp for some refreshment, we continue to descend to reach Mweka Camp.
Barafu Camp to Summit to Mweka Camp (3100 m): 13-15 hours walking.
Day 7: Mweka Gate to Moshi (Full Board)
A gentle walk takes us down through the rainforest to Mweka gate successful climbers will receive their summit certificates. After lunch we drive back to your hotel in Moshi or Arusha.
Mweka Camp to Mweka Gate: 3-5 hours walking.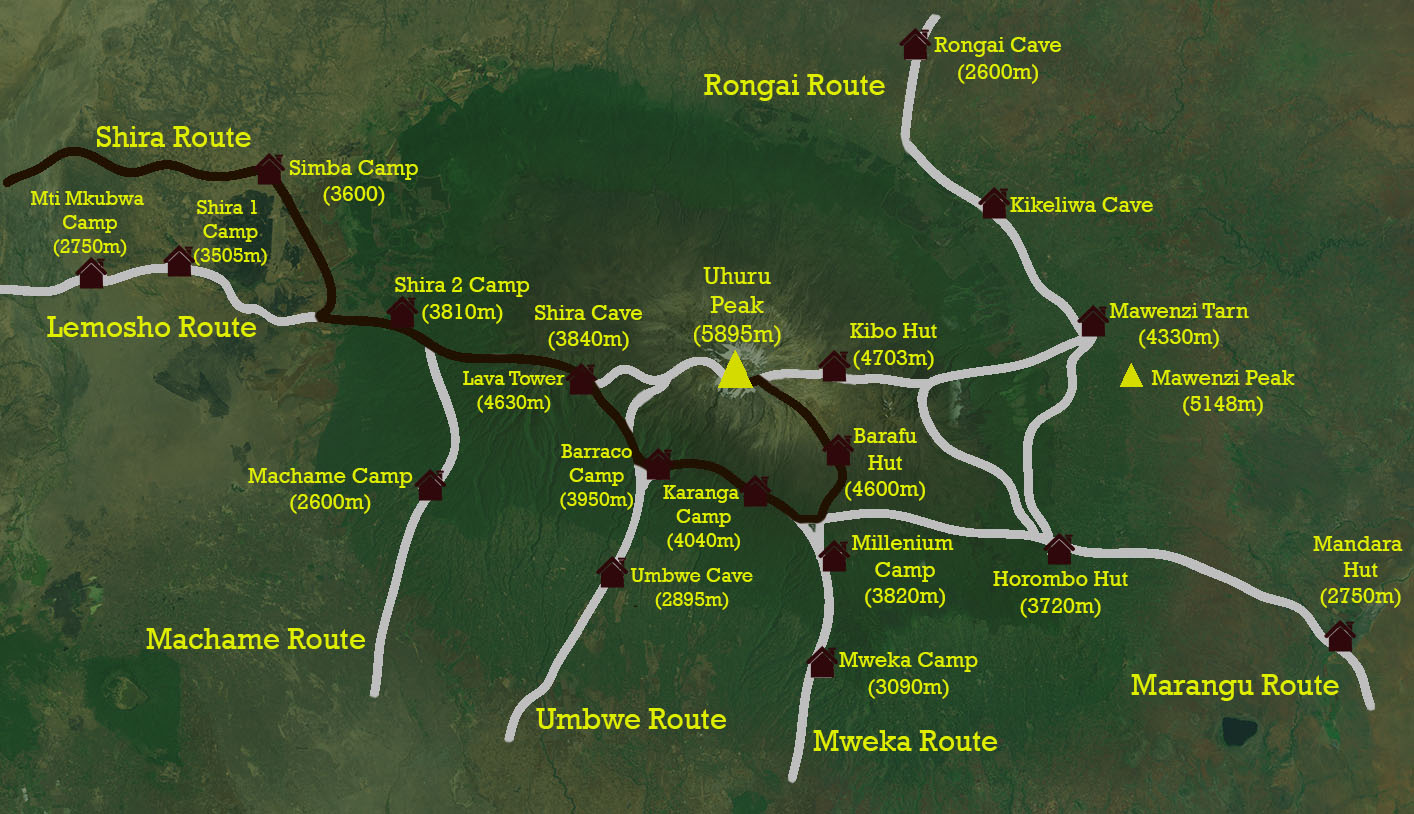 Kilimanjaro Rental Equipment
The above list is a guide to what should be taken, little else need be taken – do not overpack. Warm head cover, thick fibre pile or down jacket, light waterproof top, trousers, light overtrousers, mittens, thermal underwear, sweater, warm socks and lightweight inner socks, watertight and well broken in sturdy boots, gaiters, sunglasses, walking poles, sleeping bag (three or four season, if three then a liner is recommended), sleeping pad, water bottle, high factor sun protection cream, small first aid kit, headtorch with extra batteries, toilet roll, small wash kit and a small daypack. A holdall or bigger rucksack to give to your porter with your main luggage. Optional: a hat with a brim.
Recommended Minimum Tipping Scale:
Chief Guide: US$ 15-20 per day

Assistant Guide: US$ 10-15 per day per assistant guide

Cook: US$ 7-10 per day

Porters: US$ 5-7 per day per porter
Tip amounts listed are per group, not per individual traveler. For instance, if 4 people are on Kilimanjaro, they should each contribute US$ 5/day if they want to tip the chief guide US$ 20.
At the ceremony your group might choose to say a few words, sing a song or something else short in order to celebrate the moment.