Lemosho Route 7 Days
US$1845/Person
Day 1: From Kili Wonders Hotel – Londorossi Gate (2250m) – Big Tree Camp (2780m)
Up and away. A 3 hours drive to Londorossi Gate where you will be registered by the national park authorities. Then you drive another 15 km into the dense rainforest to where you will start. A moderately steep path leads to the Big Tree Camp (2780m). Look out for monkeys and interesting birds along the way. The tents will be already set up and hot tea and washing water will be waiting.
Day 2: Big Tree Camp (2780m) – Shira Camp 2 (3900m)
Today's long trek starts on a small trail which continues through the trees and gradually ascends to reach the Shira plateau. Enjoy the views of the mountain and plains below. The path continues to cross the Shira Ridge (ca. 3600m) and you will stop for lunch at the Shira Camp 1 after another few hours. The last section (approximately 3 hrs), you will climb another 250 meters in altitude and pass the surreal Senecia-plants growing to over 8m in height. Reaching the camp after the long day, you will relax with coffee and tea and be nourished with a 3-course meal tonight. As the sun sets you might see the summit glowing in the afternoon sun.
Day 3: Shira Camp 2 (3900m) – Lava Tower (4640m) – Barranco Camp (3960m)
You will gain 700m in altitude but descend to sleep at Barranco – 60m higher than last night's camp. This will help with acclimatisation as you will go up to 4600m before descending again. Today begins with a long uphill in the direction of the Lava Tower Hut (4640m) and you will notice how the landscape changes to a rocky alpine desert. Later, the path descends again to the Barranco Valley with its giant Senecias and Lobelias. After six to seven hours you should arrive at the most beautiful camp on the mountain – the Barranco Camp.
Day 4: Barranco Camp (3960m) – Karanga Camp (4035m)
Today will start with the daunting Barranco Wall. Soon you will realize it looks worse than it actually is, but there are tricky sections where you will need to hold on tight. Admire the views from the top.
The rest of the route follows along the mountain ridge into the Karanga valley and out.
You reach Karanga Camp after lunch and you will have fantastic views of the southern glacier of Kibo as well as of the Kibo summit.
Day 5: Karanga Camp (4035m) – Barafu Camp (4640m)
A few hours hiking through desolate and rocky moon-like landscape lies ahead. It will be a relatively easy day leading steadily uphill. The goal for today is the Barafu campsite on a narrow ridge in full view of Mawenzi peak. You will walk along a trail that passes through the afro-alpine dessert until you reach your destination for today –Barafu Camp at 4640m. Use the rest of the day to relax and pack your daypack for tonight's summit attempt. Supper will be served early; drink and eat enough if you can and try to sleep. You will be woken up around midnight to start your walk to the summit.
Day 6: Barafu Camp (4640m) – Uhuru Peak (5895m) – Mweka Camp (3080m)
It is dark and cold as you set off just after midnight. You will climb the frozen volcanic dust by headlamp going towards Stella Point on the crater rim – about six hours. The sun should be rising when you arrive here. Just an hour or two more and you will be standing on the highest point of the crater: Uhuru peak. On top of the world! Take a short break for pictures and celebratory hugs before you tackle the steep and dusty descent. By now the volcanic ash will have thawed… You will stop for a short tea break at Barafu and then continue downhill for about three hours to Mweka camp (3080m). This is your overnight stop. Refuel by drinking lots of fluids and have a good helping at supper time.
Day 7: Mweka Camp (3080m) – Mweka Gate (1630m) – Moshi
A traditional farewell ceremony from the porters begins the day. After about three hours, comfortably descending through the greenness of the forest, you should reach Mweka gate where the driver will be waiting. Back at your hotel in Moshi or Arusha for a hot shower, a cold drink, a debrief and your certificate of achievement are waiting. Well done!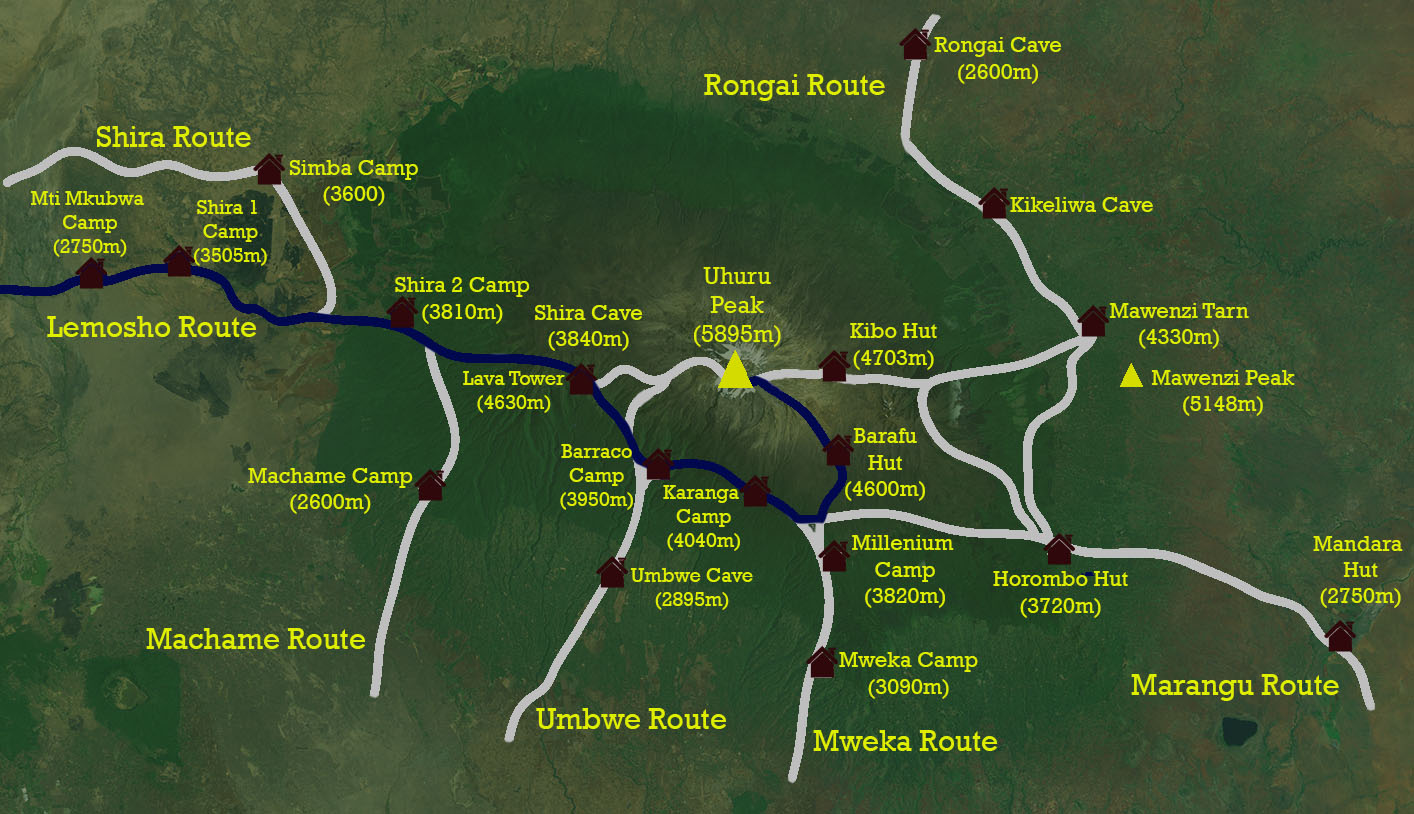 Kilimanjaro Rental Equipment
The above list is a guide to what should be taken, little else need be taken – do not overpack. Warm head cover, thick fibre pile or down jacket, light waterproof top, trousers, light overtrousers, mittens, thermal underwear, sweater, warm socks and lightweight inner socks, watertight and well broken in sturdy boots, gaiters, sunglasses, walking poles, sleeping bag (three or four season, if three then a liner is recommended), sleeping pad, water bottle, high factor sun protection cream, small first aid kit, headtorch with extra batteries, toilet roll, small wash kit and a small daypack. A holdall or bigger rucksack to give to your porter with your main luggage. Optional: a hat with a brim.
Recommended Minimum Tipping Scale:
Chief Guide: US$ 15-20 per day

Assistant Guide: US$ 10-15 per day per assistant guide

Cook: US$ 7-10 per day

Porters: US$ 5-7 per day per porter
Tip amounts listed are per group, not per individual traveler. For instance, if 4 people are on Kilimanjaro, they should each contribute US$ 5/day if they want to tip the chief guide US$ 20.
At the ceremony your group might choose to say a few words, sing a song or something else short in order to celebrate the moment.