Machame Route 6 Days
US$1545/Person
Day 1: Machame Gate (1800m) – Machame Camp (3000m)
Arrive to the Machame Gate from your hotel in Moshi or Arusha in a 4WD vehicle, introduction to your guide and porters. Registration is done and thereafter start trekking with picnic lunch through rain forest for approximately 4 to 5 hrs where you arrive to the Machame Hut. Later afternoon walk up to a little higher altitude is done for acclimatization. Return to Machame Hut for dinner and overnight. FB
Day 2: Machame Camp (3000m) – Shira Camp (3800m)
After breakfast, start climb through short Savannah, forest and other vegetation for approximately 4 to 5hrs, with picnic lunch en route before arriving in the afternoon at the Shira Hut. In Shira is where an extra day can be spent for acclimatization when climbing takes 7 days or more, dinner and overnight at Shira hut. FB
Day 3: Shira (3800m) – Barranco (3950m)
After breakfast a slow walk through semi glacier and sandy areas with picnic lunch 3 to 4 hrs before arriving at the Barranco Hut for dinner and overnight. FB
Day 4: Barranco Hut (3950m) – Barafu Hut (4600m)
After breakfast, with picnic lunch enroute climb through glaciers for approximately 4 to 5 hours before arriving the Barafu Hut for dinner and overnight. FB
Day 5:Barafu Hut (4600m) Uhuru Peak (5895m) Mweka (3100m)
An early wake up call around 01.00hrs for preparation and light breakfast before starting final ascent to the summit i.e. either the Stella Point reached in approximately 5 to 6 hrs and a further ascent to the Uhuru Peak reached in another approx 45minutes. After signing and short rest at barafu hut descend via the Gilman?s Point down to Mweka hut for an hours rest with light breakfast then descent down for dinner and overnight at Mweka hut. FB
Day 6:
Descend from Mweka hut to the park gate from where you are transferred back to your hotel in Moshi or Arusha.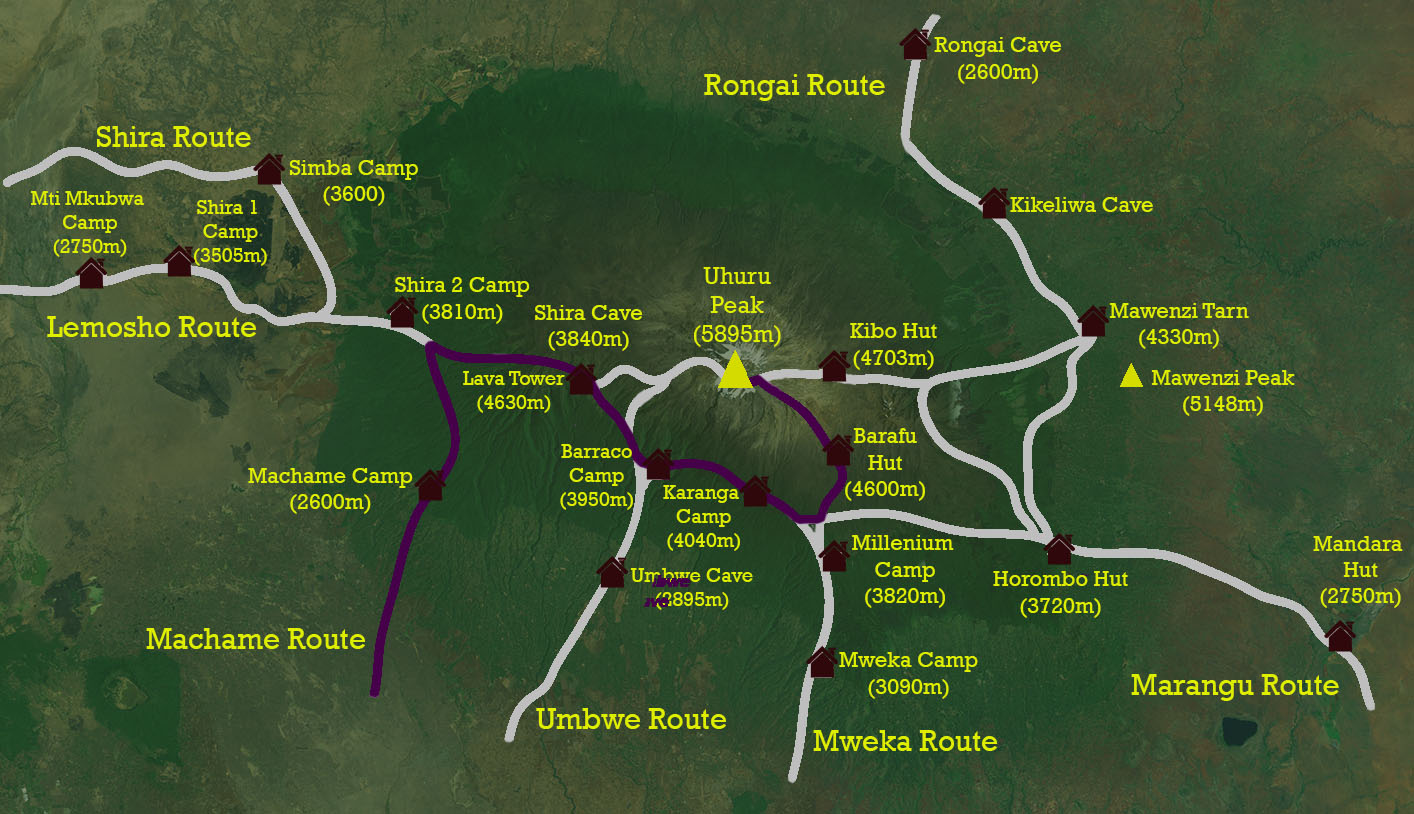 Kilimanjaro Rental Equipment
The above list is a guide to what should be taken, little else need be taken – do not overpack. Warm head cover, thick fibre pile or down jacket, light waterproof top, trousers, light overtrousers, mittens, thermal underwear, sweater, warm socks and lightweight inner socks, watertight and well broken in sturdy boots, gaiters, sunglasses, walking poles, sleeping bag (three or four season, if three then a liner is recommended), sleeping pad, water bottle, high factor sun protection cream, small first aid kit, headtorch with extra batteries, toilet roll, small wash kit and a small daypack. A holdall or bigger rucksack to give to your porter with your main luggage. Optional: a hat with a brim.
Recommended Minimum Tipping Scale:
Chief Guide: US$ 15-20 per day

Assistant Guide: US$ 10-15 per day per assistant guide

Cook: US$ 7-10 per day

Porters: US$ 5-7 per day per porter
Tip amounts listed are per group, not per individual traveler. For instance, if 4 people are on Kilimanjaro, they should each contribute US$ 5/day if they want to tip the chief guide US$ 20.
At the ceremony your group might choose to say a few words, sing a song or something else short in order to celebrate the moment.