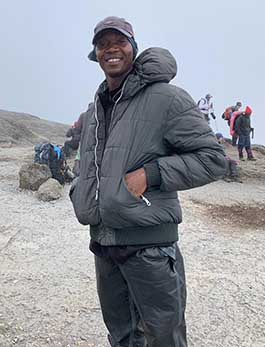 Trekking Kilimanjaro With Kibo Trips Adventures
Welcome to our website, I am Willfred Ngowi – they call me Fred, we're a team of highly trained Kilimanjaro local guides with years of field experience.
With us you can choose either to Join A Group or book a private Kilimanjaro trek.
At Kibo Trips Adventures we offer a very economical option to travel within Tanzania, we are based in Moshi town at the foot of Mount Kilimanjaro.
Kilimanjaro Trekking Packages
Kilimanjaro Groups to Join
You can join one of our group treks for fun, so as to meet new people and make new friends.
| Name | Available spots | People to join | Price | JOIN GROUP |
| --- | --- | --- | --- | --- |
| December 12th - 21st 2021 - Lemosho route 8 days | 3 Available | | $2,000.00 | |
| December 21th 2021 - January 4th 2022 - Lemosho route 8 days | 10 Available | | $2,000.00 | |
| January 2nd - 9th 2022 - Marangu route 6 days | 10 Available | | $1,500.00 | |
| January 11th - 18th 2022 - Marangu route 6 days | 10 Available | | $1,500.00 | |
| January 19th - 28th 2022 - Lemosho route 8 days | 10 Available | | $2,000.00 | |
| Febuary 2nd - 11th 2022 - Shira route 8 days | 10 Available | | $2,000.00 | |
| February 20th - 28th 2022 - Marangu route 6 days | 10 Available | | $1,500.00 | |
| March 1st - 10th 2022 - Lemosho route 8 days | 10 Available | | $2,000.00 | |
| March 12th - 19th 2022 - Marangu route 6 days | 10 Available | | $1,500.00 | |
| March 22nd - 30th 2022 - Lemosho route 7 days | 10 Available | | $1,800.00 | |