Marangu Route 6 Days
US$1545/Person
DAY 1: Marangu Gate (1980m) – Mandara hut (2700m)
After breakfast, transfer to Marangu gate and start the climb through fascinating rain forests till you reach the first hut Mandara. Meals and overnight at the hut. (9,000ft).
DAY 2: Mandara hut (2700m) – Horombo hut (3720m)
After breakfast, follow the ascending path through the alpine – meadow. The altitude begins to change and slowdown your pace while enjoying the flora and the view of Mawenzi and Kibo peaks. Arrive at the Horombo Hut 12km from Mandara. Meals and overnight at the hut. (12,520ft).
Day 3: Horrombo Hut (Acclimitization Day)
Today we walk towards the Mawenzi hut, passing the Zebra Rocks, this extra day and night at Horombo is for additional acclimatization. We recommend drinking enough water and walking slowly! All meals for the day are provided at the Horrombo hut.
Horombo hut to further improve our acclimatization.
DAY 4: Horombo hut (3720m) – Kibo hut (4700m)
After breakfast, resume the climb, the landscape becomes rugged and rocky. Lobelias begin to appear. Climb to Kibo Hut. Meals and overnight at the hut. (15,520ft)
DAY 5: SUMMIT ATTEMPT!! Kibo hut (4700m) – Uhuru Peak (5895m) – Horombo hut (3720m)
The beginning of the last ascent is made in the wee hrs of the morning while the scree is still frozen. Climb the very steep part of the route to GILMANS POINT (most difficult and tiring part). UHURU PEAK is reached within an hour's walk along the crater rim. (19,344ft). Start the walk along the craters rim. (19,344ft). Start the descent to Horombo hut for overnight
DAY 6: Horombo hut (3720m) – Marangu Gate (1980m)
After breakfast, a steady descent takes us down through moorland to the Mandara Hut. Continue descending through lush forest path to the National Park gate at Marangu. At lower elevations, it can be wet and muddy. Gaiters and trekking poles will help. Shorts and t-shirts will probably be plenty to wear (keep rain gear and warmer clothing handy).
A vehicle will meet you at Marangu gate to drive you back to your hotel in Moshi or Arusha. Don't forget to tip your guides and porters. It is time for celebration!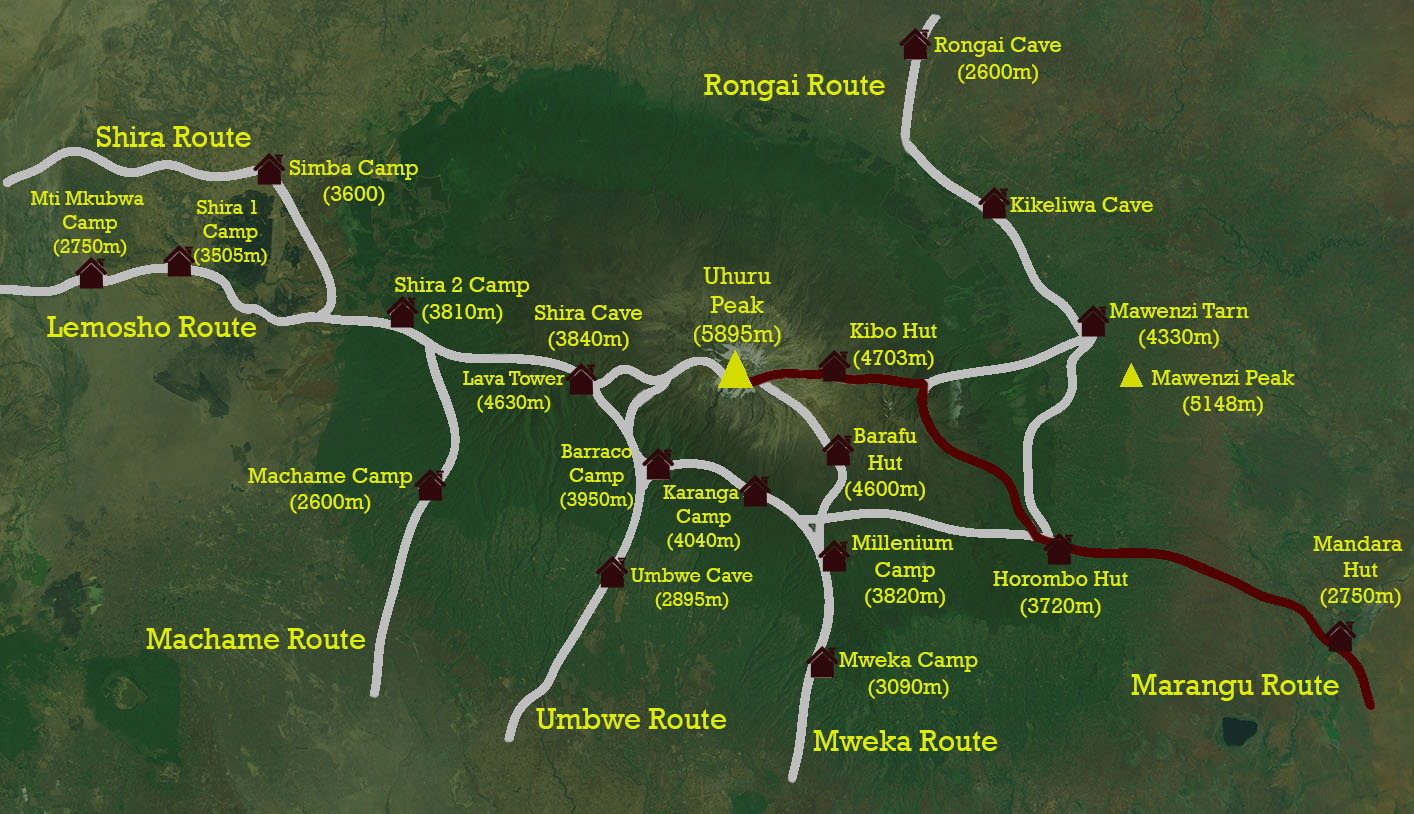 Kilimanjaro Rental Equipment
The above list is a guide to what should be taken, little else need be taken – do not overpack. Warm head cover, thick fibre pile or down jacket, light waterproof top, trousers, light overtrousers, mittens, thermal underwear, sweater, warm socks and lightweight inner socks, watertight and well broken in sturdy boots, gaiters, sunglasses, walking poles, sleeping bag (three or four season, if three then a liner is recommended), sleeping pad, water bottle, high factor sun protection cream, small first aid kit, headtorch with extra batteries, toilet roll, small wash kit and a small daypack. A holdall or bigger rucksack to give to your porter with your main luggage. Optional: a hat with a brim.
Recommended Minimum Tipping Scale:
Chief Guide: US$ 15-20 per day

Assistant Guide: US$ 10-15 per day per assistant guide

Cook: US$ 7-10 per day

Porters: US$ 5-7 per day per porter
Tip amounts listed are per group, not per individual traveler. For instance, if 4 people are on Kilimanjaro, they should each contribute US$ 5/day if they want to tip the chief guide US$ 20.
At the ceremony your group might choose to say a few words, sing a song or something else short in order to celebrate the moment.