Northern Circuit Route 8 Days
US$2400/Person
The longest and the newest route on Mount Kilimanjaro, Northern Circuit, is known for excellent acclimatization and breathtaking views of the Kilimanjaro northern slopes. For the present moment, a very limited number of travelers have set foot on this trail, and the route is hardly ever crowded.
Day 0: Arriving
Arrival at Kilimanjaro International Airport (JRO), where you will meet me , and transfer to the hotel . The hotel will provide all the essentials for a comfortable stay: cozy rooms, hot water, polite staff, a swimming pool, and Internet access. In the evening there will be a briefing with guide who will also make sure you are ready to begin the climb. NB: All the days before the climb we considered them as day zero, Including the briefing day.
Day 1: Fom gate to Shira one
A guide will meet you at the hotel after which you will travel by vehicle (roughly 3–4 hours) to
Kilimanjaro National Park's western entrance: Londorossi Gate (2,200 m). After the quick formality of acquiring climbing permits and registering with the search and rescue service, the group continues upwards towards their drop-off point by off-road vehicles (reaching 3,500 meters). Here you can see stunning views of the Shira Plateau for the first time.
ELEVATION: 3,500 m to 3,505 m
HIKING TIME: 1 hour
DISTANCE: 4 km
DIFFICULTY: Low
HABITAT: Meadows
Day 2: Shira one to Moir camp
This day brings yet another modest altitude gain of 700 m on the way from Shira 1 to moir camp. The low physical demands of the trek will leave you with both time and energy to enjoy Kilimanjaro's flora and- when the weather is favorable- Mount Meru, which is the 5th-highest mountain on the continent can be spotted.
A further acclimatization walk towards moir rocks before dinner , This allows you to experience a further gain of 150 m.
ELEVATION: 3505 m to 4,200 m
HIKING TIME: 5-6 hours
DISTANCE: 14 km
DIFFICULTY: Medium
HABITAT: Moorland
Day 3: Moir camp to buffalo camp
On this day you will have a rather long but at the same time easy trek. After a short steep climb out of Moir Valley, you will start going around the northern slope of Kilimanjaro, and just like on the way to Lava Tower the path will be full of highs and lows, without any steep gains in altitude. This route passes close to the border with Kenya, so you will be treated to amazing views of the Tsavo and Amboseli Valleys.
ELEVATION: 4,200 m to 4,020 m
HIKING TIME: 4-5 hours
DISTANCE: 9 km
DIFFICULTY: Medium
HABITAT: Moorland
Day 4: Buffalo camp to 3rd cave camp
You will finish trekking up the northern slope of Kilimanjaro and stop for the night in 3rd Cave Camp, where the route will meet up with the traditional Rongai route. On this day the trekking will be shorter than on the day before, and by this time your body will already have become completely acclimated to an altitude of 4,000 meters, which will contribute to your general feelings of well-being.
ELEVATION: 4,020 m to 3,870 m
HIKING TIME: 4-5 hours
DISTANCE: 8 km
DIFFICULTY: Low
HABITAT: Moorland
Day 5: 3rd cave camp to school hut
On this day you will be trekking to the School Hut Summit Camp (4,750 m). The actual trekking is not very hard, so remember to just choose an appropriate pace in order to keep your strength up for the trekking to Kilimanjaro's summit. When you reach the camp, we recommend you sleep well, avoid strenuous activity and drink as many fluids as you can, because that very night you will complete the trekking to Uhuru Peak (5,895 m).
ELEVATION: 3,870 m to 4,750 m
HIKING TIME: 4-5 hours
DIFFICULTY: Medium
HABITAT: Alpine desert
Day 6: School hut to uhuru – Crater camp
The climb, which starts at School Hut's 4,750 m around morning , though relatively easy technically, poses a challenge due to high altitude. A walk upon the nearest glacier is an option upon successful summiting. After the picture in the sign we heading to the creator for breakfast, and a little rest before we hike again to the big glacier in the western side and visit Arsh peak corn. Safety being the primary consideration during any summiting .
ELEVATION: 4750 m to 5895 m
HIKING TIME: 5-6 HOURS
DIFFICULTY: High
HABITAT: High Alpine Desert.
Day 7: Crater to Millenium camp
The group descends from creator via stella point to Barafu Camp then heading down to millenium camp for lunch and rest . The day ends at Millennium Camp's 3,820 m.
Please keep in mind that 9/10 accidents occur during descent. Mind your step to avoid potential falls, breaks and damaged toes. After lunch and rest we will give you envelops and names for the crew
which indicate their position and that will be a good time for you to find out how much you are going to give to the crew as TIPPING.
ELEVATION: 5,895 m to 3,820 m
HIKING TIME: 5-6 HOURS
DISTANCE: 10 km
DIFFICULTY: Low
HABITAT: Combination (Arctic , Alpine , and Moor land )
Day 8: Millenium camp to Mweka gate – hotel
Millennium Camp sits amidst a tropical rainforest. The lower altitude and feelings of accomplishment from having reached the summit make for a good night's rest there. Hot breakfast is followed by your final descent to the Park's exit gate- Mweka, at 1,650 m. This final stop before your transfer to our offices to receive your accomplishment certificates presents a good opportunity to recap the adventure with your support team. Finally, you will be driven to your hotel for a well-deserved rest.
ELEVATION: 3,820 m to 1,650 m
HIKING TIME: 4-5 hours
DISTANCE: 18 km
DIFFICULTY: Low
HABITAT: Rainforest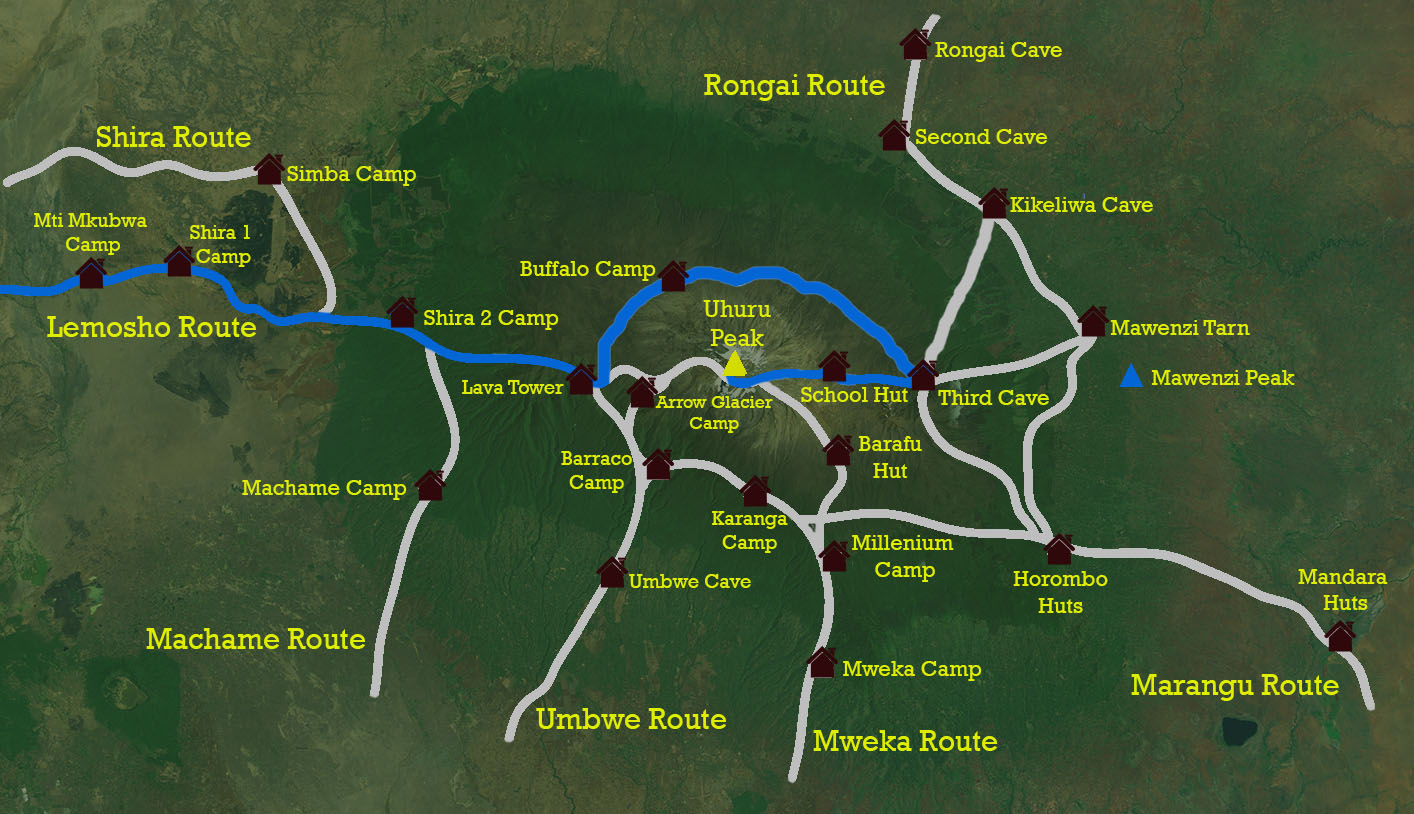 Kilimanjaro Rental Equipment
The above list is a guide to what should be taken, little else need be taken – do not overpack. Warm head cover, thick fibre pile or down jacket, light waterproof top, trousers, light overtrousers, mittens, thermal underwear, sweater, warm socks and lightweight inner socks, watertight and well broken in sturdy boots, gaiters, sunglasses, walking poles, sleeping bag (three or four season, if three then a liner is recommended), sleeping pad, water bottle, high factor sun protection cream, small first aid kit, headtorch with extra batteries, toilet roll, small wash kit and a small daypack. A holdall or bigger rucksack to give to your porter with your main luggage. Optional: a hat with a brim.
Recommended Minimum Tipping Scale:
Chief Guide: US$ 15-20 per day

Assistant Guide: US$ 10-15 per day per assistant guide

Cook: US$ 7-10 per day

Porters: US$ 5-7 per day per porter
Tip amounts listed are per group, not per individual traveler. For instance, if 4 people are on Kilimanjaro, they should each contribute US$ 5/day if they want to tip the chief guide US$ 20.
At the ceremony your group might choose to say a few words, sing a song or something else short in order to celebrate the moment.